Our local family owned business began in 1971 when our owner and founder Carl, opened his first store in Pasadena. Foodland turned into Carl's Bi-Rite and later blossomed into multiple Box N' Save markets in Baltimore. Carl was the first grocer in town to bring this "new" concept to the area. The "box" style stores continued to evolve into larger scale supermarkets which eventually became Geresbeck's Food Markets.
We've always specialized in fresh seafood, local produce, butcher cut meats as well as our famous scratch deli and bakery. Focusing on the perishable departments has set us apart from the big box chains. Carl always said "anyone can sell groceries, we'll provide the best quality fresh foods for our community" Now 50 years later, our 3 local markets have been a staple in Baltimore. For three generations we've been known as the place to go for not only perishables but all the best Maryland specialties.
Our markets have won many accolades and awards over the years, most recently winning Best Local Grocery Store, Best Local Produce, Best Local Seafood and Best Scratch Bakery. Our deli departments attract locals from far and wide to stock up on homemade Maryland favorites like our famous crab cakes, jumbo shrimp salad and crab pretzels. Almost all of our deli salads are homemade daily without preservatives and don't forget about our delicious fried chicken. Be sure to start your day off with our award winning donuts and pastries. You'll find our famous chocolate eclairs not only in our stores but statewide in restaurants and local establishments. Nobody sells seafood like we do, always supplying top quality crab meat, shrimp and fish at the best prices in Maryland. We also support many local farmers from Westminster to the eastern shore by purchasing a vast majority of our fruits and vegetables for our produce departments.
We will continue to provide our amazing loyal customers with the best quality food in Baltimore…thank you for supporting our local family owned small business!
Customer Service
We offer a complete customer service window. We sell Maryland Lottery tickets and instant scratch off tickets. Don't forget lightning struck here at Geresbeck's once, will it strike again? We sold a winning $186,000,000 Mega Million Jackpot ticket.
Seniors, Military, and First Responders Discounts
Every Wednesday seniors (60+), military, and first responders receive a 5% discount off entire grocery bill. $30 minimum purchase required. Get your card today & start saving!
Coupon Policy
Geresbeck's will double manufacturer coupons up to 50¢. Coupons over 50¢ will be redeemed for face value. Limit of 4 coupons for the same item. Coupons must have an expiration date.
Internet Coupons Internet coupons will be redeemed with the following restrictions. Coupons will be redeemed for up to $1. No Free or Buy I Get 1 Free coupons. Coupons must scan. Coupons must have an expiration date. Doubling guidelines as stated above.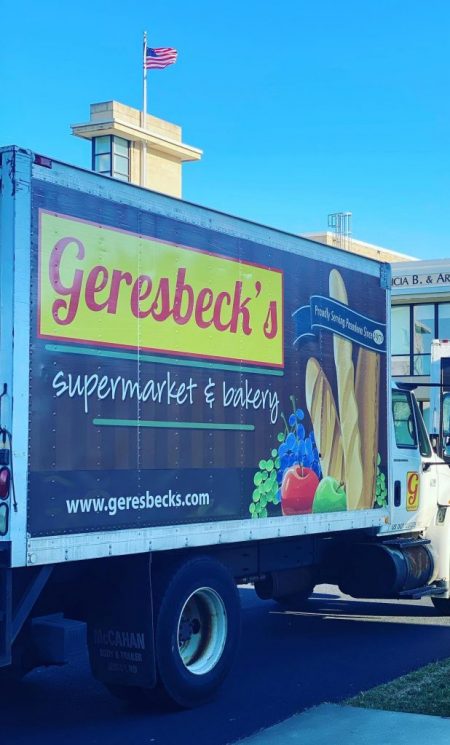 Geresbecks Food Market Locations
Why work at Geresbecks?
We are a friendly, family owned business offering flexible hours, holiday pay and vacation benefits. Stop by our closest market to speak with our managers for employment opportunities.
We're excited for you to be part of our family!